Serves 6

400g sweet potato, peeled & sliced
2tbs extra virgin olive oil
2 leeks, white part only, quartered lengthwise; washed & sliced
1 red onion, roughly chopped
3 garlic cloves, crushed
Small handful of basil
400g baby English spinach leaves
400g natural yoghurt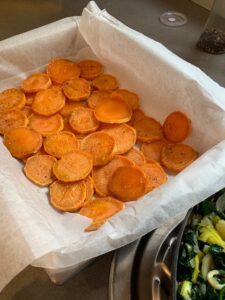 8 eggs
2 tbs pine nuts
50g feta cheese, crumbled
40g/1/3 cup shaved parmesan cheese
Sliced tomato
Preheat oven to 170deg C.
Add sweet potato tossed in 1tbs of olive oil in the base of a baking tray lined with baking paper. Roast for around 20 minutes, until tender.
Heat remaining oil in a large frypan.
Add leeks, onion, garlic and half the basil and sauté over medium-low heat (around 10 minutes). Add spinach, then cover and cook until spinach is just wilted (you may need to cook in batches). When cooked, remove and allow to cool before pouring off excess liquid.
Add to baking dish with pinenuts scattered on top.
Whisk yoghurt and eggs and season with freshly ground black pepper, then pour over other ingredients. (Fork through ingredients so liquid can reach to the bottom.) Top with remaining basil leaves, fetta, parmesan and sliced tomatoes.
Cook for around 36-40 minutes and egg has set. Serve hot or cold.
Tip: you can use any vegetables you have on hand. This recipe, with minor changes, is from a Jenny Craig cookbook.