HEALTHY FOOD IN HEALTH CARE? THE FUTURE IS SKY HIGH
Right when we're at our most vulnerable, when we are in hospital, is when we most need nourishing food. Yet I've heard so many complaints about terrible hospital food, and how just as meals are served, invariably ward rounds or tests interrupt patients from eating their meal.
I know that some hospitals have introduced a 'room service' approach where patients can determine the time they would like their meals served in an attempt to overcome the usual disruptions, but we need to make the food taste better, be fresher and provide excellent nutrition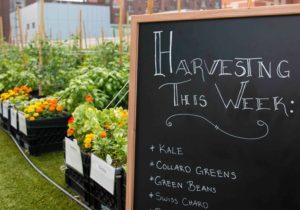 And that is exactly what a new initiative in the US is attempting to do – by broadening their approach to nutrition by improving access to healthy herbs, fresh fruits and vegetables, right at the hospital. If you think of food as medicine, in Boston some of that food comes from an unexpected place – a farm on the hospital roof!
Boston Medical Centre (BMC) set up a farm on top of one of their buildings: not only is it the largest rooftop farm in Boston, but the project was also the first hospital-based rooftop farm in Massachusetts, though by no means the only such farm sprouting up on hospital grounds in America and elsewhere.
BMC senior director of support services, David Maffeo, said: "The goal with our rooftop farm is to provide fresh, local produce to as many of our patients, employees, and community members as possible."
Lindsay Allan, the hospital garden's farm manager, highlighted that it expands what it means to care for people, in a way that more hospitals should be doing. "We are what we eat, so the more people we can provide healthy, nutrient-dense food to, the healthier our communities will be," said Allen.
The farm is used for more than just feeding patients and visitors, it also works in tandem with other initiatives like a food pantry for food-insecure patients and a hospital farmer's market.
It's also utilised by the existing educational programs the Boston Medical Centre runs, including their healthy food project teaching kitchen. Gathering fresh food from the farm and including it in cooking lessons adds interest to classes; while people with heart disease, diabetes, cancer and renal disease for example, learn about disease-specific foods and cooking techniques to benefit their conditions.