THE BEST-FUELLED AFL TEAM NOW – AND THEN?
Well, as they say…a week's a long time in football and what a week it's been. First we saw Collingwood knock off the Grand Final favourites, Richmond, with an amazing performance and have now won the right to play for the premiership.
Then we saw the mighty Demons, known for their clever, chaotic style of football, fly to Perth and get annihilated by the West Coast Eagles. Admittedly the weather was much warmer than in Melbourne but surely the fitness staff would have ensured that the players were somewhat acclimatised, well-hydrated and recovered properly after their defeat of my beloved Hawks?
I'm sure the dietitians could have helped there. It's so disappointing for the footy fans to have such one-sided preliminary finals.
But the Grand Final was certainly a tight game between Collingwood and West Coast, with a nail-biting finish when the final goal was scored by the West Coast Eagles to secure the win – congratulations to the team. And commiserations to Collingwood.
I must admit I was happy to see Collingwood in a Grand Final again. It takes me back to 1980 when Collingwood got the 'Collywobbles' in the Grand final and lost to Richmond by a massive 81 points. After that record loss I was appointed to the Club to see if a change in diet may help turn things around.
They managed to get to the Grand final in 1981, but once again lost. This time to Carlton, but at least the margin was only 20 points, so some improvement. Can't really say how much of that improvement was attributed to the change in diet.
In those days players really didn't pay much attention to what they ate and drank to improve performance. Friday night was often fish and chips, deep fried potato cakes and dim sims.
The pre-game meal was a 'fry up' 3 hours before the match, consisting of eggs, sausages, hash browns, steak and white bread, washed down with cordial. We didn't have any understanding about alcohol and recovery and just trying to convince the players not to drink alcohol the night before the game was a battle.
How things have changed. Or have they?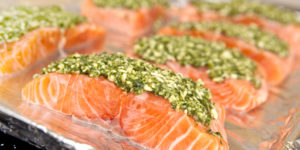 Last week on my radio segment on 3AW I invited Emily Walker, Collingwood's dietitian, to join Darren 'one-eyed Pie fanatic' James (Denis Walter was away) and I to talk about the Magpie's dietary preparation the week before the game.
She said that there would be nothing unusual as far as diet goes. They would be eating their usual diet which she referred to as an anti-inflammatory diet consisting of colourful fruits and vegetables, oily fish and other healthy fat sources like nuts, olive oil and avocado.
'What about Carbo loading with mountains of pasta the night before the game?' I asked. Emily said that while some players still enjoy their pasta there was a shift to rice as they felt rice was easier to digest.
She said that the provision of healthy snacks was important and she emphasised good protein sources like nuts, chia pods and dairy drinks and foods like yoghurt.
They drink water and sports drinks, which was no different to the old days, but what is new is the dark cherry juice and pickle juice.
Why the cherry and pickle juice you may ask? Dark cherries are high in polyphenols which have anti-inflammatory effects. I added that the cherry skins contain melatonin and that helps sleep. Emily agreed that they use the juice for improving sleep as well.
The pickle juice on the other hand is to help treat cramps but you don't have to drink it. You can use it as a  sensory aid whereby Emily says that if the player just smelt it their cramps can disappear.
According to the pickle juice website, researchers have found there are neural receptors located at the back of the throat which send the cramp message to the muscles. When the active ingredient in pickle juice comes into contact with these receptors it switches off the cramp message and the spasm will cease almost instantaneously.
Salt tablets were all the go in the early '80s, but too many of them caused stomach cramps so we went back to basics and just increased fluid intake and occasionally used quinine to treat cramping.
Looking back
Going through my treasure box I found a copy of the first diet sheet I prepared for the Collingwood players in 1981, with an original drawing of a happy looking Magpie eating an apple. This was done by a student dietitian Rita Federico who was doing a placement with me at the time.
It highlighted the importance of a balanced diet and showed the players how to choose from the five food groups to ensure optimal performance; how to stay well hydrated and which food to eat before a game. This advice still holds relevance today – you can read my 1981 diet sheet PDF:  Collingwood FC Diet Guide
The main difference is that our dietary advice today is much more tailored to the individual. We didn't have any players with food allergies or intolerances and there were no vegetarian or vegans footballers in my team then. When Collingwood won the Grand Final in 1990 my friend and colleague Lorna Garden was the team Dietitian. And I'm sure she has some words of dietary wisdom to share as well.
Brownlow medal winner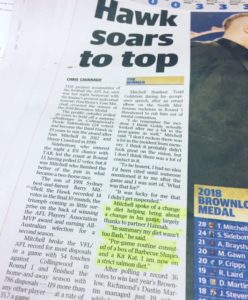 I would also like to congratulate Tom Mitchell, the Hawks star who has had such a fabulous season, on winning the Brownlow last Monday night. I had to smile when I read the article in the paper where Tom attributes the improvement in his game to a change in diet.
He admitted that his pre-game meal, consisting of a box of savoury shapes and a Kit Kat, was not ideal and he says he is now on 'a strict salmon diet'.
Not sure what that is exactly Tom but it's definitely an improvement from the fish and chips, potato cakes and dimmys pre-game prep of 38 years ago.