Focus on wellbeing
It's time to reflect on the positive decisions more and more Australians are making to improve their diet and health, and the latest information that's emerged to point us in new directions.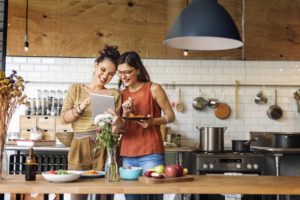 It's also time to reflect on how important family and friends are to our wellbeing and how we're going to value them more in 2018, and resolve to support those who are doing it tough.
We've all had some happy and some challenging times over the past year, but let's focus on the positives! In terms of nutrition, there's plenty to be happy about.
Like the fact digestive health and the microbiome is front and centre, not something hidden away and never mentioned, that 'prebiotics' and 'probiotics' are now part of everyday conversation, not just words in scientific journals. Finally we're hearing about how balancing good bacteria in our gut can not only improve digestion and reduce bloating but can also affect our brain function, reduce anxiety levels, help our immune systems and may even play a role in preventing obesity and diabetes.
Like the decrease in emphasis on meat – and unbalanced paleo diets – not to mention a focus on reducing food waste. I'm fascinated by the rise of veganism. While not everyone will embrace an animal-free diet, what it does do is put the emphasis back on the value of plant foods. This means that more and more people will appreciate the value of plant foods and find clever ways to incorporate them in the diet. While 96% still don't eat enough vegetables, there is definitely a groundswell to change this.
Like the health promotion groups demanding a sugar tax and pushing against sweetened beverages to create positive changes. At the recent Vic Health Awards I cheered the Ballarat workplace health promotion winners for their successful 'Water – the Drink of Choice' campaign.
Maybe in 2018 your workplace could implement a similar campaign to create a positive nutrition change where you work?