If I asked which food you associate with Easter, I think the overwhelming response would be chocolate!! Some might say eggs, and hot cross buns, but chocolate Easter eggs would surely be the winner.
Chocolate is everywhere at this time of the year. You can buy hundreds of different Easter treats from tiny sugar-coated choc eggs to gigantic Easter bunnies, and everything in between.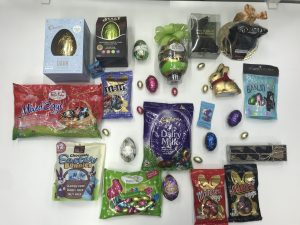 But what has struck me this year in particular are the nutrition claims on so many chocolate bunnies and eggs – claims like organic, vegan, gluten free, nut free, reduced sugar or sugar free.
ARE THEY BETTER FOR YOU?
First impressions may persuade you to think that these treats are healthy or better for you than traditional chocolate, but when you dig a little deeper by reading the ingredients list and nutrition information panel, you'll see that this is not necessarily the case. In fact it could all be a marketing ploy!
Take gluten free for example. Easter eggs are gluten free unless they contain some wafer or some grainy crunchy bits. But don't think gluten free eggs are lower in fat or lower in sugar than other Easter eggs because they're not. Gluten free doesn't mean healthier.
All Easter eggs are vegetarian and all dark chocolate eggs are vegan as they don't contain any milk or milk solids. Always have been. But it was never stated on the label because veganism was not 'on trend'.
And be aware that many of the sugar free eggs are sweetened with either stevia an intense plant sweetener or maltodextrin which reduces the sugar content, but in my opinion can also alter the taste and the rich mouthfeel of real chocolate.
On the up side, if you have a nut allergy it's good to be able to enjoy nut free Easter eggs. But the majority of Easter eggs still claim 'may contain nuts' because even though the egg itself is nut free, there may be cross-contamination in the kitchen or factory where it is made.
Unless you have specific dietary requirements, the best nutrition advice is to choose a good quality dark chocolate – and try not to overindulge. 
The hardest thing to overcome will be the excessive number of eggs found on Easter egg hunts on Easter Sunday. You may need to hide some of those collected again, but this time where neither the children nor the adults will find them!!