WATERMELON BIRTHDAY CAKES ALL THE RAGE!
It's time for Peppa Pig and Thomas the Tank Engine cakes to move over: watermelon birthday cakes are all the go on the toddler wish list!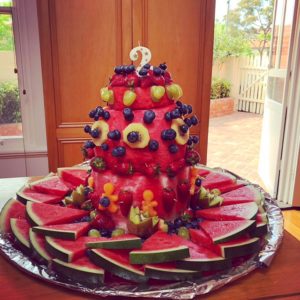 When the gorgeous toddler in my life requested a watermelon birthday cake for her second birthday party, I couldn't believe my luck. Now I know what you are probably thinking: yes, well that's expected, you're a Dietitian and sugar is more than likely banned in your house…So not expecting you to make super sweet cupcakes with pink icing, covered in hundreds and thousands.
Interestingly I had little influence with this request. I know that this young one loves fruit, especially watermelon, blueberries, strawberries and kiwifruit, and has been exposed to a healthy food environment at home all her life, and this highlights the importance of the first 1,000 days in laying the foundations for healthy eating. But no food is forbidden.
Fruit generally tastes sweet, but this watermelon-lover also eats lemons, natural yoghurt and red kidney beans. Her palate is developing and it's so important that we expose young children to a wide variety of tastes and flavours. And don't pass on our food biases to them. We need to encourage them to be intuitive eaters and to also have a healthy relationship with food.
So, back to the watermelon cake. Had a look at Pinterest for some inspiration and then headed to my favourite fruiterers in the whole wide world, Toscano's of Kew. They have been going for three generations and have three stores in Melbourne: one in Hawksburn, Victoria gardens in Richmond and the original store in Kew.
I have been shopping there for years. In fact my mother bought all her fruit and vegetables there when I was a child – and that's quite a while ago! Toscano's also sponsored the Hawthorn Football Club with a weekly fresh fruit delivery when I worked there as their nutrition coach in the late '80s and '90s. So we go back a long way.
Dom, who is one of the third generation Toscanos, is my go-to person at the Kew store. When I explained my task ahead he 'went out the back' and carefully selected four perfectly shaped, seedless watermelons for me to sculpt into three circular tiers. (I ended up only needing three.)
The first challenge was how to transport the watermelons in the boot of my car without them rolling around and getting bruised. Once we overcame that by encircling them with baskets, briefcases, computer bags and boxes, they arrived home safely to and remained sitting quietly in my car boot till the morning of the party.
The next challenge was how we were going to transport the finished 'cake' to the park where all the little two-year-olds were partying. To help it 'hold', I melted some white chocolate and spread that on the serving platter and stuck the first huge circle of watermelon on to the surface, then each other layer was attached to the one below with wooden skewers.
I must admit the circles ended up being more heaxagonal as I approached the top tier. Anyway, the watermelon tiers stayed in place and didn't move or crack, so that all worked.
And then the easy part was decorating it. I had a small gingerbread cookie cutter and pressed that into cantaloupe or rockmelon (depends where you are from), and attached them onto the bottom tier with tooth picks and then alternated them with strawberry halves.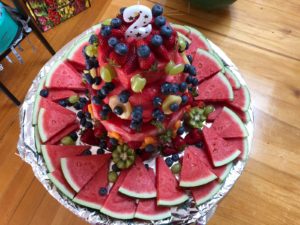 The next tier was decorated with circles of gold kiwifruit that looked a bit like eyes with blueberries as pupils. Then I just dotted more blueberries and grapes and strawberries all over the watermelon and finished with a top layer of the same. Slices of watermelon were then stacked around the edges.
What I found so interesting was the reaction from the children. They loved the watermelon cake, especially the cantaloupe gingerbread shapes! Even my little family member who won't eat cantaloupe kept pulling these little 'orange men' from the 'cake' and eating them with great delight.
What is the message here?
It shows that how we present the food to children is super-important. It's about making food fun to eat, whether we are talking offering colourful food (not brightly coloured lollies) or fun shapes. I am now going to cut all the vegetables I can think of into different shapes and see if that encourages greater consumption.
Well the party is over and the watermelon cake has been a definite winner, not only with my beautiful two-year-old, but her friends and their parents.
As one of the mothers said to me: 'I wonder what the birthday cake request will be for next year? Broccoli cake perhaps?' I wish !!!