HAPPY EASTER!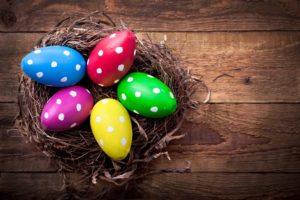 I love Easter! Always have because in our family it's all about being together. With my Latvian/Polish heritage we celebrate Easter with many traditional foods – recipes that have been handed down from my great grandmother which we all love to make and enjoy.
You would think that my role in the family would be to make the traditional salads, as you would imagine salads to be super healthy. However where my parents come from, most of the salad dressings are made with lots of sour cream.
I have modified these recipes somewhat over the years, substituting Greek yoghurt for the sour cream, or at least mixing half and half.
This year I am making the Marzukas. My father remembers having these 'slices' as a child at family Easter celebrations. One is called the Gypsy Marzuka which is a blend of nuts, almonds, hazelnuts and walnuts, mixed with currants and raisins bound together with eggs and sugar.
I have been trying to reduce the sugar but my father gets upset and doesn't want me to 'ruin' the recipe and taste!!!
The other one is a chocolate Marzuka which is made with dark chocolate and ground almonds, with lots of eggs, sugar and some spelt flour. They are sweet treats and you don't need to eat more than one. I make sure I cut them into small portions so that there is room for all the other delicious foods.
Besides the piroshky (bacon rolls – fat removed), smoked fish, eel, roast chickens, five salads and pickled cucumbers, rye bread and fresh fruit, there are always cakes…traditional Easter breads, and my Mother's famous baked cheesecake!
Before the family sits down to lunch we do our 'egg battle', where each member of the family selects one of the decorated hard boiled eggs and we try and gently smash each other's eggs by gripping the egg tightly in our fist and trying to break the shell of the other person's egg by using your own egg as a hammer.
The person who has the surviving egg at the end of the battle is the winner and will have the most luck for the year ahead. I have been playing this game at Easter all my life, and it is these traditions that I cherish.
Again it demonstrates so clearly the role of food beyond nutrition. And at Easter what we eat is a celebration of our family traditions and our love and appreciation for family, friends and of course food.
I hope you all enjoy your Easter and no matter how you celebrate, and for what reason you celebrate, keep safe and have fun!
Karen Inge xx