TIME TO RETHINK YOUR ATTITUDE TO PRUNES
How do you feel about prunes? We all know about the laxative effect of prunes – helping to keep us regular. But exciting new research shows prune nutrients are good for our bone and heart health, as well as improving gut function.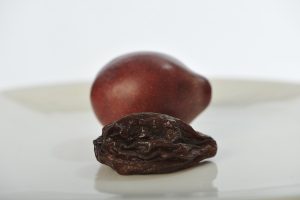 But let's start at the beginning: Australian prunes are dried sugar plums of the French d'Agen variety – 'prune' is French for 'plum'. But not all plums can become prunes. Most Australian prunes are dried on the farms where they are grown and they don't have to travel too many food miles to reach us.
PRUNES FOR BONE HEALTH
Prunes are obviously cholesterol and fat-free, high in dietary fibre, low GI and they contain many valuable nutrients and antioxidants with surprising benefits. Did you know prunes contain a range of bone-building nutrients: vitamin K, potassium, boron, sorbitol and polyphenol antioxidants, which are different bone-building nutrients to those found in dairy?
Vitamin K contributes to normal bone structure, with a serve of prunes (50g, about 6 prunes) giving you 21% of your RDI. Potassium also plays a role in improving bone mineralisation and a serve of prunes contains 375mg of potassium.
Boron is an essential mineral for bone growth, maintenance and regeneration. It boosts magnesium absorption, reduces calcium losses and helps the body make use of vitamin D – all bone-building nutrients. Prunes provide 0.9mg boron per serve. Sorbitol (6g/50g in prunes) may help the body absorb calcium.
Prunes contain 470mg GAE (Gallic Acid Equivalents –  a marker of antioxidant capacity)/50g of total polyphenol antioxidants – and especially the antioxidant chlorogenic acid (22mg/50g). Chlorogenic acid, which is also found in coffee, may also help improve calcium absorption and reduce bone breakdown, helping preserve bone mineralisation. All good news, whatever your age. But there's more…