How do you feel about prunes? We all know about the laxative effect of prunes – helping to keep us regular. But exciting new research shows prune nutrients are good for our bone and heart health, as well as improving gut function.
But let's start at the beginning: Australian prunes are dried sugar plums of the French d'Agen variety – 'prune' is French for 'plum'.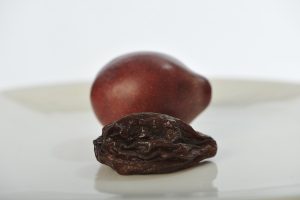 But not all plums can become prunes. Most Australian prunes are dried on the farms where they are grown and they don't have to travel too many food miles to reach us.
PRUNES FOR BONE HEALTH
Prunes are obviously cholesterol and fat-free, high in dietary fibre, low GI and they contain many valuable nutrients and antioxidants with surprising benefits. Did you know prunes contain a range of bone-building nutrients: vitamin K, potassium, boron, sorbitol and polyphenol antioxidants, which are different bone-building nutrients to those found in dairy?
Vitamin K contributes to normal bone structure, with a serve of prunes (50g, about 6 prunes) giving you 21% of your RDI. Potassium also plays a role in improving bone mineralisation and a serve of prunes contains 375mg of potassium.
Boron is an essential mineral for bone growth, maintenance and regeneration. It boosts magnesium absorption, reduces calcium losses and helps the body make use of vitamin D – all bone-building nutrients. Prunes provide 0.9mg boron per serve. Sorbitol (6g/50g in prunes) may help the body absorb calcium.
Prunes contain 470mg GAE (Gallic Acid Equivalents –  a marker of antioxidant capacity)/50g of total polyphenol antioxidants – and especially the antioxidant chlorogenic acid (22mg/50g). Chlorogenic acid, which is also found in coffee, may also help improve calcium absorption and reduce bone breakdown, helping preserve bone mineralisation. All good news, whatever your age.
PRUNES FOR HEART HEALTH
A 50g serve of prunes contains less than 1g of saturated fat. Healthy, varied diets low in saturated fat and high in soluble fibre found in many fruits, legumes and some wholegrains, help reduce blood cholesterol and contribute to heart health. Sodium and potassium are electrolytes involved in blood pressure regulation. A healthy diet, low in sodium that contains a variety of foods also reduces blood pressure.
Prunes are naturally low in sodium with 6 prunes containing just 1mg of sodium and 375mg of potassium.
Prunes also contain soluble fibre which may help reduce bile acid/cholesterol reabsorption from the intestines.
PRUNES FOR GUT HEALTH – AND A FEW OTHER THINGS WE SHY AWAY FROM MENTIONING
Let's get back to the issue of gut and bowel health. Prunes are a source of dietary fibre (3.3g/50g), sorbitol and chlorogenic acid. Each helps maintain normal bowel function. Sorbitol helps soften stools by absorbing water and fibre give stools a normal consistency. Chlorogenic acid acts on the muscles of the intestines keeping things moving.
Prune fibre also boosts good gut bacteria, and there's increasing evidence of the importance of a healthy microbiome.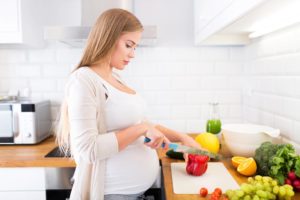 Prunes are a nutritious snack, particularly during pregnancy. Pregnant women can often have bouts of constipation due to iron supplements, so the fibre in prunes, sorbitol and antioxidants help keep bowels moving regularly. (For constipated infants and toddlers try diluted prune juice and when introducing solids try prune puree mixed in natural yoghurt).
Vegetarians may not realise that six prunes contain around 1.2mg of plant iron. To boost plant iron absorption, enjoy prunes with a vitamin C source such as citrus fruit or juice. Iron is needed for blood oxygen transport, for energy production, so helps reduce tiredness and fatigue.
HOW MUCH AND HOW OFTEN?
We all need two serves of fruit a day. Make one of your serves 6 prunes. Australians on average eat just 220g of prunes per person per year.
There's lots of ways you can use them in recipes at breakfast, lunch or dinner, plus they are an ideal snack too. There's recipes on this site and there's even more on the Australian Prune website
So time to think about adding prunes to your essential ingredients list. If you haven't tried them before, start with just a couple initially, then build up over a week or two so your body is comfortable with these little black gems.