Being a dietitian isn't only about nutrition; I've just had the privilege of watching Australian Chef Michael Cole and his Commis Chef, Laura Skvor compete in the prestigious Bocuse d'Or Asia Pacific selection round in Guanghzou, China.
Assisted by their commis, the 12  competing chefs representing their respective countries from the region who won their national competition, have to demonstrate their technique and precision to surpass their rivals. During a challenging five-and-a-half-hour test over two days, they show off the know-how and gastronomic culture of their country in front of a live audience.
Five countries progressed to the finals in Lyon, France, and Australia led by Michael Cole was one of them.
Cole is Head Chef overseeing Georgie Bass Café & Cookery, Zigis coastal bar and Peninsula conferencing & private events at Flinders Hotel on the Mornington Peninsula in Victoria. Over the past 10 years he has held senior chef positions in kitchens around the world, from Niseko, Japan to Nice, France, and more recently in Tasmania, Mt Buller and now Flinders.
Cole's commis chef Laura Skvor is a first-year apprentice studying at Chisholm Institute, who shot to fame in 2016 as a finalist on the hit TV show My Kitchen Rules. She has worked beside Michael at the Flinders Hotel as part of her training. Congratulations Michael and Laura – and good luck in Lyon!
Judging involves a kitchen jury as well as a tasting one. The Kitchen Jury records the candidates' performances according to organizational, hygiene and waste management criteria. The Bocuse d'Or contest insists on the adoption of an eco-responsible approach, because it is at the heart of the values conveyed by the contest.
The Tasting Jury is composed of the Bocuse d'Or Presidents of each country and is divided into two panels. Their task is to mark the creations of the chefs according to criteria such as presentation, taste, the method of cooking, the skills, respect for the produce and originality.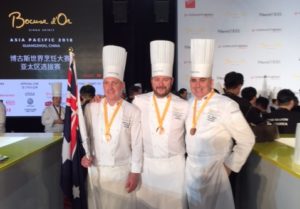 In 2017, Michael Cole won the Chef of the Year Australia and the Bocuse d'Or Australian Chef nomination. After 12 months of intense training, assisted by his coach, leading Australian chef Scott Pickett and mentor, Philippe Mouchel, on May 8th 2018, Michael competed, with his Commis Chef, Laura Skvor, qualifying for a place in the Bocuse d'Or finale in Lyon, France, to be held in January 2019.
Laura Skvor, won Best Commis Chef in the Asia Pacific division – a fantastic achievement! Flinders Hotel is very proud of Michael and Laura's dedication and achievements and are fortunate to have their creativity, passion and talent as part of the Hotel's team.
Michael's love of local produce, no matter what country he is in, extends his curiosity into the farming aspect and the ecological impact, which is where his belief that 'everything should harmonise' comes into play – I can only admire this.
"As a Chef working on the magnificent Mornington Peninsula in Victoria, I'm privileged to be surrounded by the stunning ocean and coastal hinterland of Victoria," said Michael Cole.
"This unique environment – pristine waters, clean air, rich soil and diverse micro-climate nurtures an abundance of fine produce, which encourages my clarity of purpose to achieve my dreams, and inspires my vision and creativity, to stretch the boundaries of my craft."
Named after the ground-breaking French chef Paul Bocuse, the Bocuse d'Or is a biennial world chef championship that has been running since 1987. Frequently referred to as the culinary equivalent of the Olympic Games, the event is the world's most prestigious cooking competition.