Right when we're at our most vulnerable, when we are in hospital, is when we most need nourishing food. Yet I've heard so many complaints about terrible hospital food, and how just as meals are served, invariably ward rounds or tests interrupt patients from eating their meal.
I know that some hospitals have introduced a 'room service' approach where patients can determine the time they would like their meals served in an attempt to overcome the usual disruptions, but we need to make the food taste better, be fresher and provide excellent nutrition
And that is exactly what a new initiative in the US is attempting to do – by broadening their approach to nutrition by improving access to healthy herbs, fresh fruits and vegetables, right at the hospital. If you think of food as medicine, in Boston some of that food comes from an unexpected place – a farm on the hospital roof!
Boston Medical Centre (BMC) set up a farm on top of one of their buildings: not only is it the largest rooftop farm in Boston, but the project was also the first hospital-based rooftop farm in Massachusetts, though by no means the only such farm sprouting up on hospital grounds in America and elsewhere.
BMC senior director of support services, David Maffeo, said: "The goal with our rooftop farm is to provide fresh, local produce to as many of our patients, employees, and community members as possible."
Lindsay Allan, the hospital garden's farm manager, highlighted that it expands what it means to care for people, in a way that more hospitals should be doing. "We are what we eat, so the more people we can provide healthy, nutrient-dense food to, the healthier our communities will be," said Allen.
More than food production
The farm is used for more than just feeding patients and visitors, it also works in tandem with other initiatives like a food pantry for food-insecure patients and a hospital farmer's market.
It's also utilised by the existing educational programs the Boston Medical Centre runs, including their healthy food project teaching kitchen. Gathering fresh food from the farm and including it in cooking lessons adds interest to classes; while people with heart disease, diabetes, cancer and renal disease for example, learn about disease-specific foods and cooking techniques to benefit their conditions.
What was once a flat, black roof of 223 square metres of space (just 1/16 of an acre) now grows about 25 varieties of fruits and vegetables. Some allow continuous cropping while others are seasonal. Plantings include salad mix, lettuce heads, kale, bok choy, radishes, rocket, basil, tomatoes, carrots, eggplants, cucumbers and capsicums.
The rooftop also has two beehives for pollination and to produce honey for the hospital, plus an effective ecosystem including composting to maintain healthy soils.
Within five weeks of planting they began picking, and last year roughly 2,300 kilos of fresh produce was harvested for use in the hospital.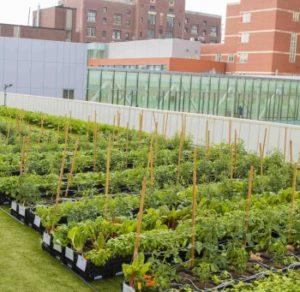 Long rows of crops are neatly planted in 2,300 milk crates, made from recycled woven fabric that allows for water drainage and air movement. Plantings maximize growing space and encourage a variety of beneficial insects. The increased green space also reduces the building's energy use and helps manage stormwater runoff during heavy rainfall.
Let's do it here!
I want to explore the possibility of such an initiative here too. Yes, I know there are issues like hospital emergency heli-pads and air conditioning units that might limit available roof space, and the weight of planters, access to water and drainage control may be issues, but these are certainly not insurmountable.
And the benefits are improved patient care through delicious, nutritious fresh food and education opportunities in urban areas where access to garden space for food planting is often limited. I know the biggest hurdle will be money – or the question who is going to pay for this?
I think it is appalling how little money is budgeted for patient meals in most public hospitals. It is so low that the quality has to be compromised. So it's not surprising that there is such a food-wastage problem in these settings. Yes, I accept that people are sick and lack appetite etc, but I'm pretty confident that if the food was more edible, we would reduce the wastage, reduce the incidence of malnutrition, improve health outcomes and save money in the long term.
Love to hear your thoughts on the environmental and health benefits of such an initiative!