We've been in Lyon in France, and it's such a beautiful city, especially the old town where we were staying. We were there for the Sirha Food Service Exhibition and the Bocuse d'Or competition.
The impressive exhibition had over 200,000 food service professionals including 25,000 chefs 3,000 exhibitors and brands focusing on influences and innovations in the food industry. There were seven halls filled with trade displays.
It ran for five days and included the World Pastry Championships and the Bocuse d'Or finale. Named after the ground-breaking French chef Paul Bocuse, the Bocuse d'Or is a biennial world chef championship that has been running since 1987.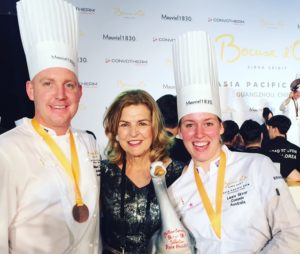 Frequently referred to as the culinary equivalent of the Olympic Games, the event is the world's most prestigious cooking competition. Over two days, 24 countries competed: Australia on day 2.
Michael Cole, head chef at Georgie Bass Cafe and Cookery and Flinders Hotel represented Australia. He was assisted by his commis Laura Skvor. They were placed 14th out of 24 at the finals, against some of the top chefs from around the world.
This year their first competition dish calls upon their original talent and cooking instincts – a presentation platter of roasted rack of veal with five chops. The second dish is a vegetable chartreuse with seafood. A chartreuse is a French dish comprising vegetables that are wrapped tightly in a decorative manner, cooked within a dome mould.
A jury of prestigious chefs judged their creations, based on criteria including technical skills, creativity, originality and innovation. Participants must work following the codes of traditional cuisine, while endeavouring to highlight the traditions and legacy of their respective national cuisine.
Michael's love of local produce, no matter what country he is in, extends his curiosity into the farming aspect and the ecological impact, which is where his belief that 'everything should harmonise' comes into play – I can only admire this.
"As a Chef working on the magnificent Mornington Peninsula in Victoria, I'm privileged to be surrounded by the stunning ocean and coastal hinterland of Victoria," said Michael Cole.
"This unique environment – pristine waters, clean air, rich soil and diverse micro-climate nurtures an abundance of fine produce, which encourages my clarity of purpose to achieve my dreams, and inspires my vision and creativity, to stretch the boundaries of my craft."
See some of the action from the start of food preparation and the Team Australia's presentation plates and platter: http://bocusedoraustralia.com.au/