It's time to reflect on the positive decisions more and more Australians are making to improve their diet and health, and the latest information that's emerged to point us in new directions.
It's also time to reflect on how important family and friends are to our wellbeing and how we're going to value them more in 2018, and resolve to support those who are doing it tough.
We've all had some happy and some challenging times over the past year, but let's focus on the positives! In terms of nutrition, there's plenty to be happy about.
The year of digestive health – let's hear it for the microbiome!
Once it was unmentionable (even by doctors), now everyone's talking about their gut flora, digestive health and the microbiome. Led by Guilia Enders' book Gut and Michael Mosley's The Clever Gut Diet, gut health is no longer something hidden away and never mentioned: 'prebiotics' and 'probiotics' are now part of everyday conversation, not just words in scientific journals.
Finally we're hearing about how balancing good bacteria can improve digestion and reduce bloating but can also affect our brain function, reduce anxiety levels, help our immune systems and may even play a role in preventing obesity and diabetes.
Focus on anti-inflammatory foods
I'm encouraged by the emphasis on reducing meat consumption – and away from unbalanced paleo diets. The rise of veganism and an appreciation of the value of plant foods and finding clever ways to incorporate them in the diet is a positive shift in thinking. While 96% of Australians still don't eat enough vegetables, there is definitely a groundswell to change this.
Research supports eating more plant foods, and less processed foods, to reduce inflammation that leads to many health problems.
This year's also seen greater awareness of the value of sustainability, preventing animal cruelty and reducing food waste. Chefs are on board, creating new and exciting ways to experiment with more fruits, vegetables and other wholefoods including ancient grains, and promote reducing food waste and using every part of foods.
My role as an Ambassador for the food rescue organisation FareShare made me aware of the importance of not wasting food. There are so many people who are in need of nutritious meals and Fareshare rescues food and then creates meals from the rescued food which are then distributed to over 500 charities.
I love the campaigns that encourage consumers to buy more 'ugly' fruit and veg, and save them from being trashed. Too often major retailers reject then throw out food that's the wrong shape/size (according to their criteria of what's 'right') or with slight blemishes, when their nutrition value isn't affected.
We need to avoid food waste wherever possible, so aim to plan and shop for only what we can reasonably eat while it's fresh.
More pressure from activist groups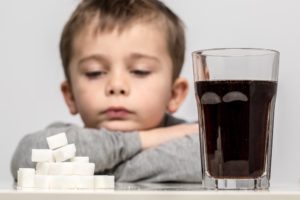 Jamie Oliver's demands for a sugar tax in the UK has encouraged the push against sweetened beverages here to create positive changes, with or without legislation. At the recent Vic Health Awards I cheered the Ballarat Health Services Primary Care and Population Health Advisory Committee Workplace Health Promotion winners for their successful 'Water – the Drink of Choice' campaign that focused on making healthy drink choices easier for staff and visitors.
This collaborative project between the City of Ballarat, Ballarat Community Health, Central Highlands Primary Care Partnership, St John of God Ballarat Hospital, Western Victoria Primary Health Network and YMCA Ballarat aimed to influence their workforces by:
increasing the availability and promotion of water
decreasing the availability and promotion of sugary drinks
increasing staff awareness of the link between consumption of sugary drinks and ill health.
This low-cost initiative reached over 7,000 staff across the seven organisations, and potentially influenced the total daily traffic of more than 10,000 clients per day.
Maybe in 2018 your workplace could implement a similar campaign to create a positive change where you work? Sounds like a great new year's resolution to me.